Welcome to Harding Land & Cattle Company, the home ofRanchStar™ beef. We're glad you stopped by to learn who Harding Land & Cattle Company is, and what we're all about.
Harding Land & Cattle Company's headquarters office is located in Terry, MT – a small farming and ranching community sitting between Miles City and Glendive; in the eastern third of Montana. The Harding Land & Cattle Company operation consists of an 85 section ranch that lies 37 miles east of Miles City, and a farm/feedlot unit, comprised of 800 irrigated acres, and a 2,000 head capacity feedlot, located 10 miles west of Terry.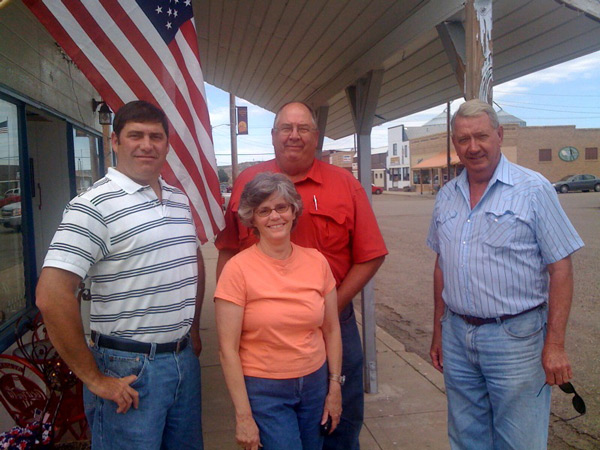 During the past decades, Harding Land & Cattle Company has worked hard to become a leader in the cattle industry. Research, coupled with the guidance of experienced geneticists, has led to the formation of a breed of cattle that has come to be known as the RanchStar™. The breed is made up of 50% Red Angus (RAN), 25% Charolais (CHS), and 25% Tarentaise (TAR). The combination of these breeds maximizes heterosis, and ensures that the desired traits of these breeds are realized in the end result: RanchStar™.
The name "RanchStar" has been coined using three letters from the names of each of the three breeds that contribute to the genetic makeup of the RanchStar™.
The new breed of cattle, RanchStar™, that has been nurtured into existence by Harding Land & Cattle Company, is just one example of its efforts to be on the leading edge of every aspect of the cattle industry.
Care for the environment is an ever-present concern at Harding Land & Cattle Company. Drought and other environmental factors continue to challenge Harding Land & Cattle Company on a regular basis. Taking care of the land and the wildlife that call it home are top priorities.
Harding Land & Cattle Company has also become deeply involved in marketing all-natural beef, which is free of any growth hormones or antibiotics.
As Harding Land & Cattle Company looks into the future, it sees a cattle industry where quality means everything. Through RanchStar™, Harding Land & Cattle Co. believes that they are on the right track. Markets that are looking for quality will reward producers who have superior quality beef cattle. Superior quality will mean higher prices per pound and more income for the farm or ranch.
We are proud to share our vision of the future with you as you view this web site. If you have any further questions or desire to contact us for any reason, please visit the Contact page. Enjoy, and thank you for visiting!